Last Updated on 2020-10-20 by Linda
This shop has been compensated by Collective Bias, Inc. and its advertiser. All opinions are mine alone. #tryTENAovernight #CollectiveBias
Vacation, I mean honestly who doesn't love a vacation am I right? Currently I am basking in the sun in Clermont (Disney Territory) and I am enjoying the pool, sun and maybe a few other things. Relaxing is the key to a perfect vacation, leaving the worries behind. Know what I am not worried about? The Unexpected Leak™,because I am traveling with TENA® incontinence products for women. Designed for comfort and made for performance, TENA® incontinence products let you do the things you love, without missing out on any moment or experience.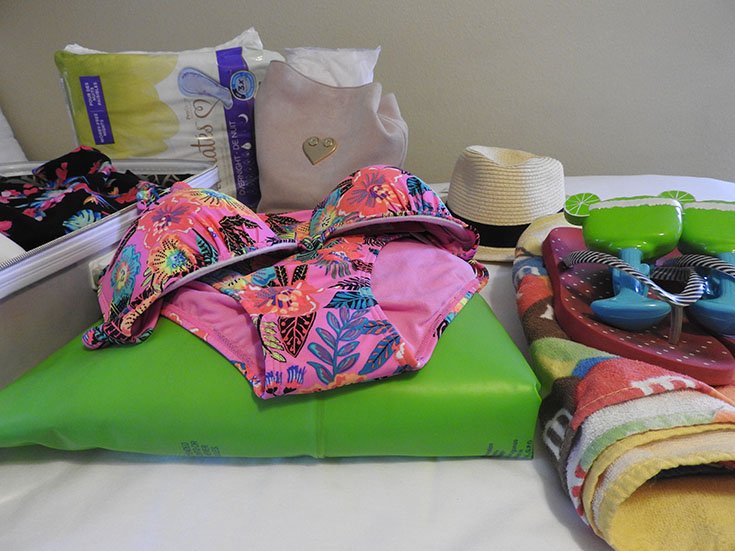 Interested in trying to start prepping for your next trip, or maybe even just interested in trying Overnight TENA? Hover over the photo to click through to Walmart Grocery to shop these products!
Vacation Worries
I start preparing for vacation long before we arrive at our destination. From the moment the condo is booked or the flights have been arranged I am ready. A Planner, that is what you would call me, plan for the trip, plan for what I want to do and yes I even plan what I pack. My suitcase may not be packed until the night before I leave but my list is ready. I start figuring out our itinerary so I know what to pack. Lists are my best friends.
After the packing is done and my bag is packed I then possible start fretting a bit about the flight. Now don't misunderstand I love flying, I worry not about what might happen because I trust the pilots. The fretting I experience is usually turbulence related. It may sound funny but I don't worry about the fact that the plane will experience turbulence. I worry that the "seat belt on " sign will remain bright, meaning stay in your seat through the flight. Arggg that is an awful feeling, the worlds smallest bladder starts the panic mode.
Overnight with Tena
Second worry,world's smallest bladder will fail me on vacation. On a normal night I might need to get up once, on vacation well who knows. True story I woke up our first night in the condo and walked out of our bedroom and down the hallway to try and find a bathroom. Sad fact, we have an ensuite…. lord love us the thought of having an accident because I am disoriented is totally disconcerting. Tena is a security blanket. It allows me to keep feeling confident with protection for the Unexpected Leak™. Designed for comfort and made for performance, TENA® incontinence products let you do the things you love, without missing out on any moment or experience. Want to know a secret? Tena is on my list of five travel essentials.
Five Travel Essentials
Packing is not for the light hearted. OK it totally may be for everyone but good packing requires planning. List Linda is in full swing for vacations. I plan ahead, I list activities and then pack to be prepared. Now truth be told a significant amount of my vacations involves sun, sand and maybe a bit of heat. To prepare for how to best enjoy a sunny vacation here are my list of five must haves:
pack a floatie, honestly having your own floatie takes up minimal room in your suitcase but will provide hours of fun.
Pack a beach towel, I know most resorts may provide a towel but bringing your own bright towel allows you to reserve your spot and no-one can get confused because the towel is the same as everyone else.
A hat, I cannot survive without a sun hat, it's a great way to stay shaded while making a fashion statement
Towel clips, honestly I kid you not, find some fun towel clips to anchor your towel, we have several but the Margarita clips are a must pack, always.
Tena, I always pack Tena in my suitcase for night time confidence ( and I may wear one on the plane just to be extra confident)
The Tena Difference
Tena provides a confidence from no accidents. Plus the new Night Time pad provides the same great absorbency with Triple Protection, now with ProSkin Technology™ for worry-free nighttime protection and fast absorption for staying fresh.
Secret tools in Action
Towels and towel clips are an ingenious way of marking your spot. Plus a few creature comforts from home are always helpful. If you have extra room, I thought I would add a few more fun to have conveniences.
6) travel mugs
7) soft side cooler
8) Ipad/touch/phone with music loaded
9) small waterproof speaker
10) corkscrew ( just in case)
Quick Tip: on 5/20 there will be an FSI in the paper where you can get $4.00 off any one (1) TENA Overnight Pad or TENA Overnight Underwear (2 week duration). This offer can only be redeemed in-store an ends 6/3. Plus there is a $3 off any TENA Underwear through Ibotta in May starting on 5/9.
This trip I traveled from Ottawa to Saint John and then to Orlando. From home to wedding to a sunny vacation, packing was a bit of a worry. I mean honestly I had to worry about wedding attire and visiting Sebastian and then 8 days in Florida. The one thing I did not worry about wqas packing enough Tena for the entire trip. A quick stop at Walmart in Clermont took care of that worry. Flight landed on Saturday and a quick stop to pick up a 28 ct. Overnight Pads. Worry Free vacation for the rest of the trip.