Last updated on March 19th, 2017 at 03:08 pm
I Love, capital L.O.V.E Christmas and everything about it. So show me a Christmas linky and I am there.
Life with a side of Coffee
and
Southern Beauty Guide
have an awesome link up which features a different side of the holidays every week. This week is Holiday Movies. On a side note I think I am the only blogger in the world that has not watched Love Actually so please do not expect to see it on my list.
What are my fav's , well:
1) Miracle on 34th Street, the original edition, although the newer one is starting to grow on me.
"
The young lady who just approached the bench presented me with this Christmas card, and this. It's a dollar bill. It's going to be returned to her shortly, but by presenting me with this bill, she reminded me that it's issued by the treasury of the United States of America. And it's backed by the government, and the people, of the United States of America.
Upon inspection of the article, you will see the words, "in god we trust." We're not here to prove that god exists, but we are here to prove that a being just as invisible, and yet just as present, exists.
Federal government puts its trust in god. It does so on faith and faith alone. It's the will of the people that guides the government. And it is and was their collective faith in a greater being that gave, and gives, cause to this bill's inscription.
Now, if the government of the United States can issue its currency bearing a declaration of trust in god without demanding physical evidence of the existence or the nonexistence of a greater being, then the state of New York, by a similar demonstration of the collective faith of its people, can accept and acknowledge that Santa Claus does exist, and he exists in the person of Kriss Kringle!
2) My next pick ( and don't shot me no pun intended) is Die Hard and yes it is a Christmas movie people.
3) Of course Die Hard 2
4) Then I move to Arnold in Jingle all the Way, which is a story about all that is so wrong with the holiday but they do it so right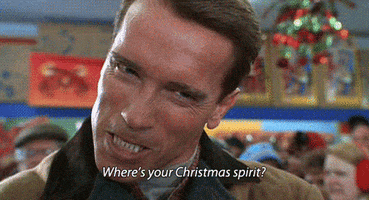 5) and then all 3 Santa Clause movies
So my taste in movies is a bit eclectic I know, you should see what I watch on TV. Wanna talk about cheesy Christmas episodes. Bones had the best one ever but I digress and should get back on topic.
I have to add Its a Wonderful Life,White Christmas and The Sound of Music,heck I love most Christmas Movies. the only one you will not find on my list is The Christmas Story you know that one with the kid with the BB gun, I have never managed to sit through that one ( and this from the person that will watch every Lifetime and Hallmark movie made).