Last Updated on 2020-02-09 by Linda
This shop has been compensated by Collective Bias, Inc. and its advertiser. All opinions are mine alone. #teaproudly #CollectiveBias
Happy Victoria Day, oops too early for you? Not for me I have been waiting for this day for a while, especially after the winter we just had. The Victoria Day long Weekend in Canada has always been the start of Summer. A heralding of warmer weather and lazy days. You know the ones I mean, those slow summer evening where sipping a cup of tea by the firepit is a time honoured tradition. No hurry, no scurrying to get things done, just a slow sip on a warm drink as the fire crackles and pops. This year is double the fun because Hello Steep by Bigelow and just maybe a Cheesecake made with Lemon Ginger Tea.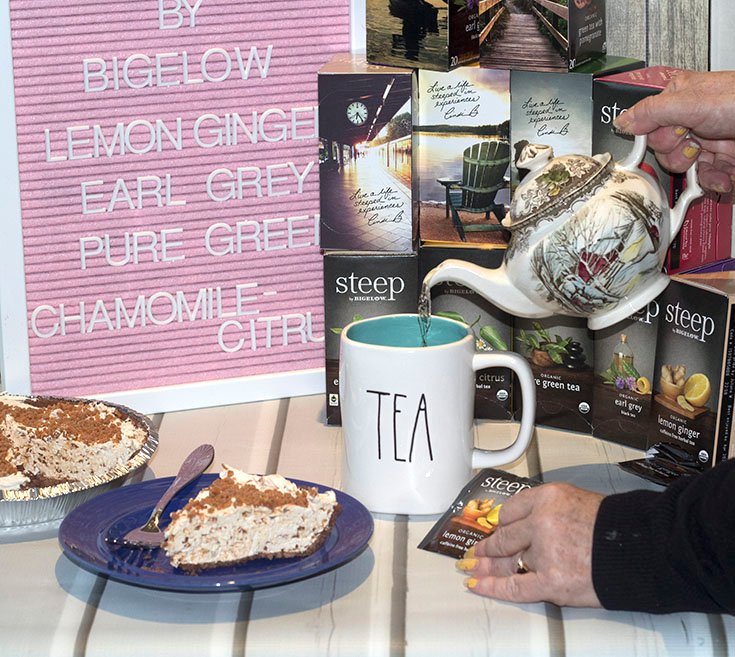 Have you seen Steep Yet? Well if not., get excited because select steep by Bigelow Teas are now available at Walmart stores and coming soon, to Walmart.ca!" In the meantime,I thought if you were really wanting to enjoying a hot cup of Bigelow Tea this fall season? Hover over the photo to click through to Walmart.ca and buy it!"
Welcome to Canada but not Only in Canada
What a great start to the Victoria Day weekend though. Steep by Bigelow is finally available in Canada at Walmart, Welcome I say. The new line features the six Steep by Bigelow Tea teas Chamomile Citrus, Earl Grey, English Breakfast, Green Tea w/Pomegrante, Lemon Ginger and Pure Green Tea. It's an amazing selection right? Plus totally organic. The arrival of Steep by Bigelow in Canada ( for the first time ever) is perfectly fitting in with my holiday plans.
My backyard is set up, pool is heating up and the firepit is ready. Let's be frank I plan on doing nothing more than enjoying summer from my yard. Starting as usual with the May Long Weekend. Fun fact our May Long weekend is called The Victoria Day Long weekend, celebrating Queen Victoria's Birthday. Well what better way to celebrate the queen's ( previous) birthday than relaxing with a hot tea?
My new Lemon Ginger Skor Cheesecake is set, and I for one plan on pouring a cup of Hot Tea, putting my feet up and enjoying the start of the summer season. I am what you might like to call #teaproudly. Bigelow Tea has always been my #1 choice of tea. And now it offers me the traditional steep tea for my morning ( always an English Breakfast gal) yet still has something special for every occasion. Plus with musicians in the house who love to sing, the Lemon Ginger is a blessing. Voice preservation made easy, every time all the time.
Celebrating Steep by Bigelow with Pie
For celebrations I know some are fond of a traditional "cheer" but me well a toast to Steep by Bigelow with a fancy new pie and a cuppa hot tea. OK maybe not fancy but delicious with a twist. I am always on the hunt for new flavours and fun twists so how about Lemon Ginger? While brewing a fresh pot of the Lemon Ginger Tea blend I was struck by inspiration, I figured this would make a fun twist on cheesecake. And guess what I was totally right. Lemon Ginger Skor Cheesecake.
This was totally one of those stumble upon moments. Wanting dessert, relaxing with tea and wondering what I could be doing. Or maybe after getting lost in Pinterest and my tea got cold I thought waste not want not. Rather than re-heat I could use this in a recipe and make myself a fresh pot. Never let anything go to waste my inside voice was whispering.
The Steep, Lemon Ginger Flavour was my substitute for a traditional vanilla or almond flavouring. Cutting the sweet of the skor just enough while maintaining a sense of summer in each bite.
Cheesecake Recipe
Lemon Ginger Skor Cheesecake
The pheesecake and a cup of tea have always gone together perfectly so why not pairthem up
Print
Pin
Rate
Ingredients
1

pkg skor bits

save some for the topping

2-3

tbsp

lemon ginger tea

made and cooled

2-3

tbsp

icing/confection sugar
Instructions
Whip cream cheese

slowly fold in cool whip

pour in tea

sprinkle icing sugar

add skor bits ( hold some back for the top

blend together and add into pie shell

spirinkle skor bits on top

refrigerate for an hour of so

serve fresh with a pot of tea,, preferable Steep by Bigelow
Nutrition Facts
Lemon Ginger Skor Cheesecake
Amount Per Serving (8 Servings)
Calories 0
* Percent Daily Values are based on a 2000 calorie diet.
Nutrition
So hey Canada, take a break from the chores this long weekend, head to Walmart and check out Steep by Bigelow, I promise you will not be disappointed. You will find all six yummy flavours in the same aisle as all the other more mundane teas.