Last Updated on 2018-10-31 by Linda
Well I have changed my mind, there apparently are not
five awkward topics
, there is only one, and it is only awkward and difficult if you are over six. I threw it out there for all the world to see and I know its been read but I am stumped as to how to get the conversation started. I think maybe I should have had a wine tasting party and opened a lot of bottles of wine, and then once we were all relaxed and giddy then I should have asked about your pee ( say what, yep I really am going there again mostly because I believe that if I keep writing and you keep reading just maybe it will not seem so awkward)
Seriously why is this not reality???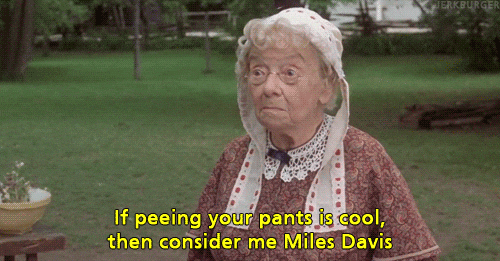 Its Pee, I peed a little, I did not hurt anyone, I did not laugh at anyone, I just reached a point where I lost a little control ( and haven't you been there?). Funny I can vomit ( oops yep said that in a post too) in all the wrong places and talk openly about it anywhere, but have a little leak and I am running to the store in secret to buy new pants.
It is a tough topic, google "pee gifs" and guess what there are tons of guys, some funny, some sad but there sure as heck are not a lot of funny woman "pee gifs", why, BECAUSE IT CANT BE FUNNY IF WE WONT TALK ABOUT IT.
Maybe if the world accepted that there may be issues, we could all sit around and sing campfire songs and never worry that when the jokes start we will be making a mad dash because laughter may be the best medicine but it is also (sometimes) the cause of great concern.
We should be able to stand up in front of god, the church, the friends, the kid, the strangers and shout.
Sadly it's not cool yet but soon, OK maybe not cool but it will be acceptable. The more open we are, the more acceptable it will be.
And to start the acceptance,
Always Discreet
is sponsoring the
Zoomer Show
in Toronto, how is that for a bold move in talking about PEE. The Zoomer Show is a (wait for it) Lifestyle Expo for the 45+
group, Its a Zoomer for the Boomer folks. The show is scheduled for Oct 31 and Nov 1 ( and hey if you are interested in tickets just leave me a comment), I sadly will be winging my way back from Miami after my little sister's 50th birthday ( man I never thought I would be saying little sister and 50 in the same sentence) so I cannot attend. I have to admit I am a little bummed because I really would like the opportunity to take this conversation live.
A special bonus,
Always Discreet
has arranged for
Barbara Hannah Grufferman – Positive Aging Expert
to be at the booth all day Saturday. Barbara is a best-selling author with a passion for empowering women over fifty to embrace – and proudly show off – their age. Now she's addressing bladder sensitivity to help women do the things they love without holding back.
Just Imagine a world where instead of feeling like this:
We are able to act like this…..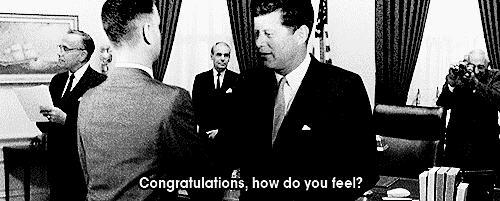 So I have a fun idea, if you aren't ready to talk about it or even leave me a little comment to show I am not on my own you could hop over and follow Always Discreet on
twitter
or
facebook
and that way I at least know that you are starting to accept that this should not be a secret, that is my subtle yet discreet request to show me love….
Don't forget to check out the
Samples
that are available, just in case you might need one (or more)
I created this blog post as a paid ambassador for Aways Discreet. All opinions and advice ( and pee issues) are my own and I only work for companies I genuinely love or have used prior to my being contacted.